Tom Kenny is an American actor and comedian. He voices one of the main characters, Commander Peepers, Lord Hater's Second in Command.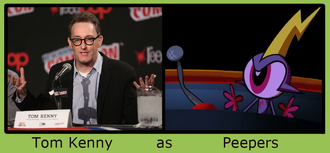 Personal Life
Kenny was born and raised in Syracuse, New York, the son of Theresa Bridget (Donigan) and Paul Austin Kenny. As a young child, he loved drawing and collecting record albums in the late 1960s and 1970s. He went to Bishop Grimes High School, a Catholic high school, in Syracuse. He became lifelong friends with comedian Bobcat Goldthwait after a teacher, who was displeased with Goldthwait, dragged him into Kenny's class. After college, Kenny appeared in films that Bobcat directed and starred in such as Shakes the Clown and World's Greatest Dad.
Kenny first met his wife Jill Talley in 1992 while working on The Edge. The two have also collaborated on HBO's Mr. Show and SpongeBob SquarePants. They have two children, Mack and Nora. [1]
Television and Film Career
Kenny has acted in many films and TV shows, debuting in How I Got Into College (1989) and later appeared in films such as Shakes The Clown and Comic Book: The Movie. He appeared in sketch comedies The Edge and Mr. Show. He appears in the live-action segments of SpongeBob SquarePants as Patchy the Pirate, and appeared on R.L. Stine's The Haunting Hour on the season four episode, "Uncle Howee" as Uncle Howee, a high-energy kids' show host with strange powers.
Voice Acting Career
While working on the animated series Rocko's Modern Life, Kenny met marine biologist and animator Stephen Hillenburg, who was also the creative director in the show's fourth season. Hillenburg drew a square sponge that he thought was funny and decided that he had found his character. After the cancellation of Rocko's Modern Life in 1996, Hillenburg began developing the concept and hired former Rocko crew members. To voice the character of SpongeBob, Hillenburg approached Kenny. Hillenburg chose the name SpongeBob and used the name SquarePants as a family name that "had a nice ring to it".
The series premiered on May 1, 1999, on Nickelodeon and became a commercial success in 2000, during its second season. Kenny voices other characters on the show including Gary the Snail, the French narrator (a parody of Jacques Cousteau), SpongeBob's father Harold SquarePants, and his live-action portrayal of Patchy the Pirate. In 2010, Kenny received the Annie Award for "Voice Acting in a Television Production" for his role as SpongeBob in SpongeBob's Truth or Square (season 6, episode 23-24). He also voiced SpongeBob in the sequel film released on February 6, 2015.
Joe Murray auditioned Kenny for voice acting roles for the series in a casting call in Los Angeles, California. On one occasion, the producers required Kenny to fill the role of Charlie Adler, who was absent. He voices Cupid for the Nickelodeon show The Fairly OddParents.
Joe Murray chose Kenny for several roles on another one of his projects, Camp Lazlo as Scoutmaster Lumpus and Slinkman, because Murray, after seeing Kenny's previous work for Rocko's Modern Life, felt that Kenny "adds writing to his roles" and "brings so much".
He voiced Dog in CatDog, as well as the voice of Cliff. He voices many characters in The Powerpuff Girls, including the Mayor, the Narrator, Mitch Mitchelson, Snake, and Little Arturo from the Gangrene Gang, Rainbow the Clown, etc. He voiced Eduardo, and various other characters in Foster's Home For Imaginary Friends, Dr. Two-Brains in the PBS Kids show, WordGirl and the villains Knightbrace, The Common Cold and Mr. Wink in Codename Kids Next Door. Kenny is also The Penguin in 2004 TV series The Batman.
He plays a number of roles in the Transformers Animated TV show. A few of the characters he voices in this series are Starscream and his clones, Isaac Sumdac and Waspinator. Kenny also voiced several characters on the animated show Xiaolin Showdown, as well as the Autobots Skids and Wheelie in the live-action Transformers film series. On Dilbert, Kenny voiced Ratbert, Asok and other one-time characters. He played Mr. Hal Gibson in the animated kids show Super Robot Monkey Team Hyper Force GO!.
In 2009, Kenny became a regular cast voice in the Fox comedy series Sit Down, Shut Up. He voices Muhammad Sabeeh "Happy" Fa-ach Nuabar, the secretive custodian who is plotting a terrorist attack, as well as Happy's interpreter. The series premiered on April 19, 2009. Kenan Thompson, Kristin Chenoweth, Jason Bateman, Nick Kroll, Cheri Oteri, Henry Winkler, Will Arnett, and Will Forte are the other main cast members.
He plays The Ice King and Magic Man on Adventure Time. In 2011, Kenny took over the role of Rabbit from Ken Sansom in Winnie the Pooh. From 2012–2014, Kenny voiced Woody Johnson on Comedy Central's Brickleberry. He voices Flain, Seismo, and Teslo in Mixels, Sumo in the Cartoon Network show Clarence, Daddo in Henry Hugglemonster, Dr. Otto Octavius on The Ultimate Spider-Man, and Leo Callisto in Miles from Tomorrowland. He has also provided voices in television advertisements for Best Buy (as an elf for a Christmas spot) and Experian (as a talking modem alongside DC Douglas).
Gallery
The gallery for Tom Kenny may be viewed
here.
Awards and Nominations
Filmography
| Year | Title | Role | Notes |
| --- | --- | --- | --- |
| 1989 | How I Got into College | B | Film Debut, Live action |
| 1992 | Shakes the Clown | Binky the Clown | Live action |
| 1994 | Plughead Rewired: Circuitry Man | Guru | |
| 2000 | Buiness Tom 4: Killvol Naknifinhome | Himself (Playing Tom Jake in a film) | Live action |
| 2001 | Jimmy Neutron: Boy Genius | Additional Voices | Voice role |
| 2001 | Dr. Dolittle 2 | Male Tortoise | Voice role, Live action |
| 2002 | Scooby-Doo! and the Legend of the Vampire | Lightning Strikes, Stormy Weathers, Barry, Harry, Lifeguard 2 | Voice role, Direct-to-video |
| 2002 | The Powerpuff Girls Movie | The Mayor, The Narrator, Cha-Ching Cha-Ching, Mitch Mitchelson, Snake, Arturo | Voice role |
| 2002 | Adam Sandler's Eight Crazy Nights | Sharper Image Chair | Voice role |
| 2002 | Run Ronnie Run | TV News Reporter, Cult Leader Gleh'n | Live action |
| 2003 | Windy City Heat | Gay Costume Designer | Live action |
| 2003 | Kaena: The Prophecy | Zehos | Voice role |
| 2003 | My life with Morrissey | Clerk | Cameo, Live action |
| 2003 | Animatrix | Various | Voice role |
| 2003 | Scary Movie 3 | Aliens (uncredited) | Voice role, Live action |
| 2004 | The Spongebob Squarepants Movie | Spongebob Squarepants, Gary the Snail, French Narrator, Clau, Tough Fish #2, Twin #2, Houston Voice | Voice role |
| 2004 | Comic Book: The Movie | Derek Sprang | Live action |
| 2004 | Surviving Christmas | Man Wrapping Gift | Cameo, Live action |
| 2005 | Stuart Little 3: Call of the Wild | Forest Animals, Scouts | Voice role, Direct-to-video |
| 2005 | Lil Pimp | Hans Dribbler Announcer | Voice role, Direct-to-video |
| 2005 | Hoodwinked | Tommy | Voice role |
| 2005 | Tom and Jerry: Blast off to Mars | Grop, Gardener #1, Martian Guard #2 | Voice role, Direct-to-video |
| 2005 | Tom and Jerry: The Fast and the Furry | Gorthan, Whale | Voice role, Direct-to-video |
| 2005 | Sky high | Mr. Timmerman | Cameo, Live action |
| 2005 | Aloha, Scooby-doo! | Ruben Laluna, California Surfer, Tiny Tiki | Voice role, Direct-to-video |
| 2006 | Tom Goes to the Mayor | Saxman | Voice role |
| 2006 | Ant Bully | Ant #2, Drone Ant, Ant #6 | Voice role |
| 2006 | Re-Animated | Appleday Board Member, "Tux The Penguin" | Voice and Cast, Anmated / Live-action Film |
| 2006 | Idiocracy | IPPA Computer | Voice role |
| 2007 | Here Comes Peter Cottontail: The Movie | Petter Cottontail, Junior, Antoine | Voice role, Direct-to-video |
| 2007 | Futurama: Bender's Big Score | Additional Voices | Animated film, Direct-to-video |
| 2007 | Elf Bowling The Movie: The Great North Pole Elf Strike | Dingle Kringle | Voice role, Direct-to-video |
| 2007 | Superman: Doomsday | The Robot | Voice role, Direct-to-video |
| 2007 | Meet the Robinsons | Mr. Willerstein | Voice role |
| 2007 | Happily N'Ever After | Amigos #1, Dwarves #2, Wolf #1 | Voice role, Animated film |
| 2007 | Tekkonkinkreet | Sawada | Voice role, English dub |
| 2007 | Atlantis Squarepantis | Spongebob Squarepants, Gary the Snail | TV Movie, Voice role |
| 2008 | Unstable Fables: 3 Pigs and a Baby | Dr. Wolfowitz, Musical Comedy Wolf | Voice role, Animated film |
| 2008 | Immigrants (L.A. Dolce Vita) | Additional Voices | Animated film |
| 2009 | Transformers: Revenge of the Fallen | Wheelie, Skids | Voice role, Live Action Nominated- Golden Raspberry Award for Worst Screen Couple (shared with Shia LaBeouf and either Megan Fox or any "Transformer" |
| 2009 | The Haunted World of El Superbeasto | Otto, Rover, Old Man | Voice role, Direct-to-video |
| 2009 | World's Greatest Dad | Jerry Klein (talk show producer) | Cameo, Live action |
| 2009 | Spongebob's Truth or Square | Spongebob Squarepants, Gary The Snail, Harold Squarepants, French Narrator, Patchy-The-Pirate (Live Action), Jellyfish, Various Voices | TV Movie |
| 2010 | Space Chimps 2: Zartog Strikes Back | Ham lll | Voice role, Animated film |
| 2010 | Kung Foo Magoo | Dr. Malicio | Voice role, Direct-to-video |
| 2010 | Beverly Hills Chihuahua 2 | Sebastian | Voice role, Direct-to-video, Live action |
| 2011 | Winnie The Pooh | Rabbit | Voice role |
| 2011 | Big Time Beach Party | Patchy The Pirate | Guest Star, TV movie, Big Time Rush episode, Live action |
| 2011 | Transformers: Dark of the Moon | Wheelie | Voice role, Live action, Nominated - Golden Raspberry Award For Worst Screen Ensemble (shared with the enitre cast) |
| 2011 | God Bless America | Office Staff (uncredited)  | Cameo, live action |
| 2011 | Twinkle Toes | Dad, Mr. Koslovsky, Judge #2, Mr. Saperstein, Politician | Voice role, Direct-to-video |
| 2012 | Frankenweenie | Fire Chief, Soldier | Voice role, Stop-motion animated film |
| 2012 | Hotel Transylvania | Additional Voices | Voice role |
| 2012 | Delhi Safari | Alex The Parrot | Voice role, English dub |
| 2012 | Zambezia | Marabou #1 | Voice role |
| 2012 | Beverly Hills Chihuahua 3: Viva la Fiesta! | Sebastian | Voice role, Direct-to-video, Live action |
| 2012 | Back to the Sea | Ben | Voice role, English dub |
| 2013 | I Know That Voice | Himself | Documentary |
| 2014 | Rocky & Bullwinkle | Bullwinkle J. Moose | Voice role, Short film |
| 2014 | Legends of Oz: Dorothy's Return | China Suitor | Voice role |
| 2015 | The Spongebob Movie: Sponge Out Of Water | Spongebob Squarepants.The Invincibubble, Gary The Snail, Agreeable Mob Member, Waffle | Voice role |
| 2015 | Lego DC Comics Super Heroes: Justice League vs. Bizzaro League | Penguin, Plastic Man | Voice role, Direct-to-video |
| 2015 | The Flintstones & WWE: Stone Age Smackdown! | Additional Voices | Voice role, Direct-to-video |
| 2015 | Ant-Man | Hideous Rabbit | Voice role |
| 2015 | Lego DC Comics Super Heroes: Attack Of The Legion Of Doom | Penguin | Voice role, Direct-to-video |
| 2015 | The Laws Of The Universe Part 0 | Ummo Alien | Limited theatrical release |
| 2016 | Lego DC Comics Super Heroes: Justice League: Gotham City Breakout | Penguin | Voice role, Direct-to-video |
Television
Year
Title
Role
Notes
1990
Kashi No Ki Mokku
Pinocchio
1990
MTV's Half Hour Comedy
Himself
Live action
1992
Medusa: Dare To Be Truthful
Bobo Kaufman
TV film
1992
The Edge
Himself, Various Characters
Live action
1993 - 1996
Rocko's Modern Life
Heffer Wolfe, Additional Characters
Animated series, Voice role
1994
Attack Of The 5 Ft. 2 In. Woman
Director
TV film
1995
Dumb And Dumber
Weenie
Voice, TV series
1995
Dead Weekend
Joe Blow
TV movie
1995
Out There
Man In Lobby
TV movie
1995
Mr. Show With Bob And David
Himself, Various Characters
HBO TV series, Live action
1996
Mr. Show With Bob And David: Fantastic Newsness
Carlin McCree

HBO TV series, Live action

1996
Malibu Shores
Debate Moderate
TV series
1996
Brotherly Love
Doug, Lucien
TV series
1996 - 2003
Dexter's Laboratory
Val Hallen, Douglas E. Mordecai lll, Additional Voices
1997
The Online Adventures Of Ozzie The Elf
Elf Characters
TV short
1997 - 1998
I Am Weasel
Robber
Animated series
1997 - 1999
Cow And Chicken
Pyles The Beaver, Chachi The Chewing Gum Seal, Various Voices

Animated series

1998
The Adventures Of Sam & Max: Freelance Police
Lorne, The Friend For Life

Animated series

1998
Toonsylvania

Animated series

1998
Histeria!
Bill Straitman, Egghead, Slowpoke Rodriguez, Additional Voices
1998
Dr. Katz, Professional Therapist
Himself
Animated series
1998
A Little Curious
Mr. Sting 

Animated series

Epsiodes: "Slippery When Wet" and "Hot And Sticky"

1998 - 2000
Godzilla: The Series
Nigel

Animated series

1998 - 2005
CatDog
Dog, Cliff, Additional Voices
Animated series
1998 - 2005
The Powerpuff Girls
The Mayor Of Townsville, Narrator, Mitchel "Mitch" Mitchelson, Snake, Little Arturo, Rainbow The Clown, Val Hallen, Additional Voices
Animated series, Voice role
1999
Mission Hill
Wally Langford, Additional Voices

Animated series, Voice role

1999
Johnny Bravo
Carl Chryniszzswics

Animated series, Voice role

1999
Detention
Duncan Bubbles (electronic voice), Additional Characters

Animated series, Voice role

1999
Dilbert
Asok, Ratbert, Additional voices

Animated series, Voice role

1999
The Brothers Flub
Additional Animal Characters

Animated series, Voice role

1999 - 2003, 2008 - 2013
Futurama
Yancy Fry, Additional Characters

Animated series, Voice role

1999 - Present
Spongebob Squarepants
Spongebob Squarepants, Gary The Snail, French Narrator, Patchy The Pirate (live action), Jellyfish
Voice role, Voice Director (S9+), Animated series
2000
Poochini's Yard
Additional Characters
Voice role, Animated series
2001
That 70's Show
Woofy The Funland Dog
TV Series
2001
Samurai Jack
Leader, Chritchellite #1, Chritchellite #2, 

Chritchellite #3, Various Characters

Voice role, Animated series
2001
The Mummy: The Animated Series
Jonathan Carnaghan

Voice role, Animated series

2001
The Cramp Twins
Wayne Cramp (U.S. Version Only)
Animated series
2001
Time Squad
Abraham Lincoln, Eli Whitney, Sigmund Freud, Moctezuma ll
Animated series
2001 - Present
The Fairly OddParents
Cupid, Additional Voices
Animated series
2002
Kim Possible
Dr. Fen, Joe, Additional Voices
Animated series
2002
3 South
Various Voices
Animated series
2002
What's New Scooby-Doo
Natlas, Harry Harrison, Sam The Safety Engineer
Animated series
2002
¡Mucha Lucha!
Megawatt, Various Voices
Animated series
2002
Home Movies
Doctor
Animated series
2002
The New Woody Woodpecker Show
Hogwash Junior
Animated series, One episode
2002 - 2008
Codename: Kids Next Door
Mr. Wink, The Common Cold, Knightbrace, Cuppa Joe
Animated series
2003
My Life As A Teenage Robot
Additional Characters
Animated series, Voice role
2003
Lilo & Stitch: The Series
Thresher (Experiment 544)
Animated series, Voice role
2003
Teen Titans
Mumbo, Fixit
Animated series, Voice role
2003 - 2006
Xiaolin Showdown
Raimundo Pedrosa, Grand Master Dashi, Vlad, Hannibal Roy Bean
Animated series, Voice role
2004
Saturday Night Live
Spongebob Squarepants (uncredited)
Cameo, Guest star
2004
The Batman
Oswald "Ozzie" Chesterfield Cobblepot (The Penguin)
Voice role, Animated series
2004
Danny Phantom
Additional Characters
Voice role, Animated series
2004
Hi Hi Puffy AmiYumi

Additional Characters

Voice role, Animated series
2004
Super Robot Monkey Team Hyper Force Go!
Gibson
Voice role, Animated series
2004
Rave Master
Griff
Voice role, English dub
2004 - 2006
Brandy & Mr. Whiskers
Ed, Additional Voices
Voice role
2004 - 2009
Foster's Home For Imaginary Friends
Eduardo, Socket Tubey, Additional Voices
Voice role, Animated series
2005
American Dad!
Slow Janitor
Animated series
2005
IGPX: Immortal Grand Prix
Benjamin Bright
Voice role, English dub
2005
The Buzz On Maggie
Additional Characters
Animated series, Voice role
2005
The Life And Times Of Juniper Lee

Additional Characters

Animated series, Voice role

2005
American Dragon

Additional Characters

Animated series, Voice role

2005 - 2008
My Gym Partner's A Monkey
Jake Spidermonkey, Henry The Armadillo

Animated series, Voice role

2005 - 2008
Camp Lazlo
Scoutmaster Lumpus, Slinkman, Additional Characters

Animated series, Voice role

2006
The Emperor's New School
Additional Characters

Animated series, Voice role

2006
Shorty McShort's Shorts
Father, Ron Shepard
Voice role
2006 
Korgoth Of Barbaria
Hargon, Various Others
Voice role
2006 - 2007
Squirrel Boy
Leon
Voice role, Animated series
2006 - 2008
Class Of 3000
Edward "Eddie" Phillip James Lawrence lll, Ms Squatenchowder

Voice role, Animated series

2006 - 2013
Handy Manny
Mr. Lopart, Pat

Voice role, Animated series

2007
Transformers: Animated
Starscream, Sideswipe, Isaac Sumdac, Waspinator, Skywarp, Thundercracker, Ramjet, Sunstorm, Jetfire, Rattletrap

Voice role, Animated series

2007
Family Guy
Spongebob Squarepants (Uncredited; Archive Footage)
Episode: "Road To Rupert", Voice role, Animated series
2007
Chowder
Additional Characters

Animated series, Voice role

2007
El Tigre: The Adventures Of Manny Rivera

Additional Characters

Animated series, Voice role
2007 
Kids' Choice Awards

Announcer

Award Ceremony
2007
Tim And Eric Awesome Show, Great Job!
Pat Dudley, Grum
Live action
2007 - 2008
Out Of Jimmy's Head
Tux The Penguin
Voice role, Animated/Live action series
2007 - 2015
WordGirl
Tony James "T.j." Botsford, Dr. Two-Brains, Phil, Additional Voices
Voice role, PBS Kids animated series
2008
The Mighty B!
Additional Characters
Animated series, Voice role
2008
2008 Kid's Choice Awards
Announcer
Live action, Award Ceremony
2008
Star Wars: The Clone Wars
Nute Gunray, Nahdar Vebb, Various Voices
Voice role
2008
The Marvelous Misadventures Of Flapjack
Various Voices
Voice role, Animated series
2008

Back At The Barnyard: Cowman: The Uddered Avenger

Professor Twinny Vines, Martin Fargleman
Voice role, TV special
2008 - 2011
Batman: The Brave And The Bold
Plastic Man, Baby Face, Ray, Deadshot, Mirror Master, 'Mazing Man
Voice role, Animated series
2008 - 2011
Phineas and Ferb
Squirrel
Animated series
2009
Random! Cartoons
Bradwurst, Jerry
Episode: Bradwurst
2009
2009 Kids' Choice Awards
Announcer
Award ceremony
2009
Fanboy And Chum Chum
Additional Characters
Animated series, Voice role
2009
Square Roots: The Story Of Spongebob Squarepants
Himself
TV Documentary
2009 - 2011
The Super Hero Squad Show
Iron Man, Captain America, Colossus, Juggernaut, MODOK, Sentinels, Space Phantom
Voice role, Animated series
2010
True Jackson VP
Bingo
Guest star, Live action
2010
2010 Kids' Choice Awards
Announcer
Award ceremony
2010
Cosmic Quantum Ray

Quantum Ray

Voice role
2010 - 2012
Kick Buttowski: Suburban Daredevil
Kyle Buttowski
Voice role, Animated series
2010 - 2013
Generator Rex
Fitzy Feakins, Buchiner, Announcer, Additional Voices

Voice role, Animated series

2010 - 2013
Scooby-Doo! Mystery Incorporated
Mr. Broccoli, Various Characters
Animated series
2010 - 2013
Pound Puppies
Chuckles, Bobo, Chauncey
Voice role
2010 - Present
Adventure Time
Ice king, Magic Man, Orgalorg
Voice role, Various Characters, Animated series

2010 - Present

Regular Show
Additional Voices

Voice role, Various Characters, Animated series

2011 - 2013
Hero Factory
Jetbug, Nathan Evo, Daniel Rocka
Voice role
2011
BrainSurge
Himself
Game show, Guest host, Episode: #223, Live action
2011 - 2013
The Looney Tunes Show
Vampire Tweety, Additional Voices
Voice role, Animated series
2011 - 2013
Dan vs.
Crunchy
Voice role
2011 - Present
Bubble Guppies
Sam
Voice role
2012
2012 Kids' Choice Awards
Himself
Award ceremony
2012
It's A Spongebob Christmas
Spongebob Squarepants, Patchy The Pirate (Live Action)
Voice role, Television special
2012
Mad
Various
Voice role
2012
Napoleon Dynamite
Curtis
Voice role, Animated series
2012
The Legend Of Korra
Referee, Additional Voices
Voice role
2012
64th Primetime Creative Arts Emmy Awards
Himself (Presenter For 'Outstanding Short-Format Animation')
Live action, Award ceremony
2012 - 2013
Green Lantern: The Animated Series
Zilious Zox, Salaak, Buth Rok, Anti-Monitor
Voice role, Animated series
2012 - 2014
The High Fructose Adventures Of Annoying Orange
Coconut, Princes (Live Action Guest)
Voice role
2012 - 2014
Brickleberry
Woody
Voice role
2012 - Present
Ultimate Spider-Man
Doctor Octopus, Dr. Curt Connors, Wizard, Whirlwind, Vulture
Voice role, Animated series
2013
The WotWots
Spottywot
Animation / Live Action (U.S. Distribution)
2013 - Present
Uncle Grandpa
Tiny Miracle, Dennis, Belly Bug, Additional Voices
Voice role, Animated series
2013 - Present
Steven Universe
Additional Voices

Voice role, Animated series

2013 - Present

Avengers Assemble
Impossible Man, Whirlwind

Voice role, Animated series

2013 - Present

Hulk And The Agents Of S.M.A.S.H
Doctor Octopus, Impossible Man

Voice role, Animated series

2013 - 2015
Henry Hugglemonster
Daddo, Grando

Voice role, Animated series

2013 - 2016
Wander Over Yonder
Commander Peepers, Various Voices

Voice role, Animated series

2014
The Boondocks
Doctor

Voice role, Animated series

2014
Lego DC Comics: Batman Be-Leaguered
Penguin
Voice role, Animate series, Television special
2014 - Present
Teen Titans Go!
Cyborg's Nose
Animated series

2014 - Present

Mixels
Flain, Seismo, Yeslo, Tungster, Berp
Voice role, Animated short

2014 - Present

Tom and Jerry Show
Various Voices
Voice role, Animated series

2014 - Present

Clarence
Sumo

Voice role, Animated series

2014 - Present

The 7D
Additional Voices

Voice role, Animated series

2014 - Present

Rick and Morty

Additional Voices

Voice role, Animated series

2014 - 2015
Randy Cunningham: 9th Grade Ninja

Additional Voices

Voice role, Animated series

2014 - 2016
Gravity Falls

Additional Voices

Voice role, Animated series

2015
Star vs. the Forces of Evil

Additional Voices

Voice role, Animated series

2015

Teenage Mutant Ninja Turtles
Dr. Tyler Rockwell

Voice role, Animated series

2015

Breadwinners
SwaySway's Dad, Bear Ruffinbuff

Voice role, Animated series

2015

Talking Tom and Friends
Hank

Voice role, Animated series

2015

W/ Bob and David
Various Roles,

Voice role, Animated series

2015 - Present
Miles from Tomorrowland
Leo Callisto

Voice role, Animated series

2015 - 2016
Fresh Beat Band of Spies
Bo Monkey, Reed

Voice role, Animated series

2016 - Present
The Powerpuff Girls
Mayor, Narrator

Voice role, Animated series

2016 - Present
Rolling with the Ronks!
Flash

Voice role, Animated series

2016
All In with Cam Newton
Himself
Reality show, Live action
Video Games
| Year | Title | Role | Notes |
| --- | --- | --- | --- |
| 1996 | Nickelodeon 3D Movie Maker | Heffer Wolfe | Voice role, PC game, Video game debut |
| 1999 | Sypro 2: Ripto's Rage | Spyro The Dragon, Professor, Electrolls, Alchemist, Droids, Gnorcs, Additional Voices | Voice role |
| 2000 | Spyro: Year of the Dragon | Spyro The Dragon, Sergeant James Bryd, Tikis, Professor, Chilled Penguins, Additional Characters | Voice role |
| 2000 | Escape from Monkey Island | Deadeye Dave, Thrawtle The Lucre Lawyer | Voice role |
| 2000 | Nicktoons Racing | Spongebob Squarepants, Dog | Voice role |
| 2001 | The Powerpuff Girls: Jojo's Pet Project | Mayor Of Townsville | Voice role |
| 2001 | Star Wars: Rogue Squadron ll: Rogue Leader | Biggs, Additional Voices | Voice role |
| 2001 | | Bobba, Rin, Wantz | Voice role |
| 2001 | Spongebob Squarepants: SuperSponge | Spongebob Squarepants, Gary The Snail | Voice role |
| 2001 | Spongebob Squarepants: Operation Krabby Patty | Spongebob Squarepants, Gary The Snail | Voice role |
| 2002 | Spongebob Squarepants: Revenge of the Flying Dutchman | Spongebob Squarepants, Gary The Snail | Voice role |
| 2002 | Spyro: Enter The Dragonfly | Spyro The Dragon, Sleeping Bears, Farmer Crocodiles, Rat Professors | Voice role |
| 2002 | Spongebob Squarepants: Employee Of The Month | Spongebob Squarepants, Gary The Snail | Voice role |
| 2003 | Final Fantasy X-2 | Rin, Wantz | Voice role |
| 2003 | Spongebob Squarepants: Battle For Bikini Bottom | Spongebob Squarepants, Gary The Snail | Voice role |
| 2003 | Disney's Brother Bear | Kenai | Voice role |
| 2004 / 2005 | The Spongebob Squarepants Movie: The Video Game | Spongebob Squarepants, Gary The Snail, French Narrator (PC Version) | Voice role |
| 2005 | Spongebob Squarepants: Light, Camera, Pants! | Spongebob Squarepants, Gary The Snail | Voice role |
| 2005 | Nicktoons Unite! | Spongebob Squarepants, Gary The Snail | Voice role |
| 2006 | Spongebob Squarepants: Creature from the Krusty Krab | Spongebob Squarepants, Gary The Snail | Voice role |
| 2007 | Crash of the Titans | Ratnicians | Voice role, Video game |
| 2008 | Crash: Mind Over Mutant | Ratnicians | Voice role, Video game |
| 2008 | Lego Batman: The Videogame | The Penguin, The Riddler | Vocal effects, Video game |
| 2008 | Line Rider 2: Unbound | Bosh | Voice role |
| 2009 | Spongebob's Truth or Square | Spongebob Squarepants, Gary The Snail | Voice role |
| 2011 | Dark Souls | Additional Voices | Voice role |
| 2013 | Skylanders: Swap Force | Stink Bomb | Voice role |
| 2013 | Marvel Heroes | Doctor Octopus, Morph | Voice role |
| 2013 | Spongebob Squarepants: Plankton's Robotic Revenge | Spongebob Squarepants | Voice role |
| 2013 | Lightning Returns: Final Fantasy XIII | Additional Voices | Voice role |
| 2014 | Disney Infinity 2.0: Marvel Superheroes | Doctor Octopus | Voice role |
| 2014 | Skylanders: Trap Team | Stink Bomb, Shield Shreddrer, Additional Voices | Voice role |
| 2015 | Spongebob HeroPants | Spongebob Squarepants/The Invincibubble | Voice role |
| 2015 | King's Quest | The Merchant Of Miracles | Voice role |
| 2015 | Disney Infinity 3.0 | Fear | Voice role |
| 2015 | Skylanders: SuperChargers | Stink Bomb | Voice role |
Other

References